Stryga features interviews, articles and creations by an international horde of women/queers/hags.
A zine focused on underground black metal, art, culture, dark old school imagery. We have an affinity for Folklore, History, Litterature, Sociology, and other inspiring fields (no NSBM scum).
STRYGA is sold in supports the NGO Abortion Without Borders.
at the distro La Limou'zine. Ask us for international tracking option.
Distros in FRANCE : Paris > MotorBook&PsychoZines. Lyon > La Luttine & Bigout Recs. Clisson > Librairie Villes Invisibles
Where we can, we sell it at free price for broke like us : on hand at french book festivals, at punk distros.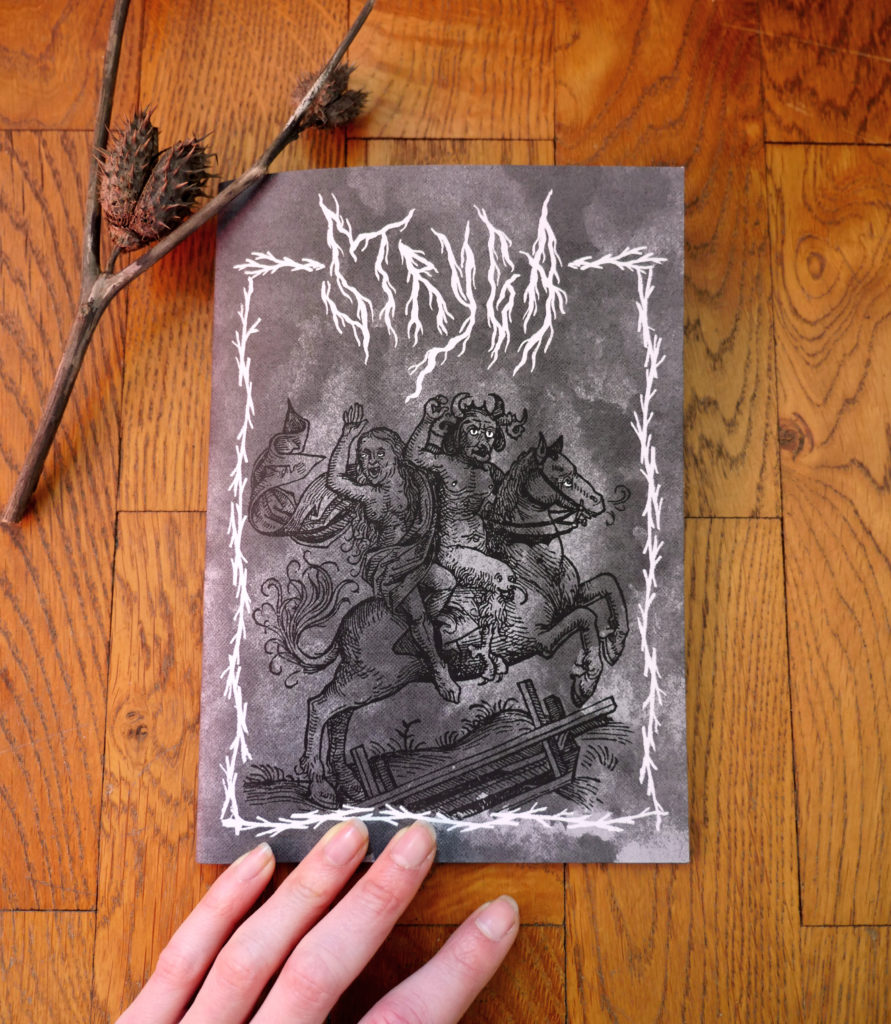 THE ARTIFACT
Stryga is printed on thick recycled paper, in a traditional offset process with a rough black ink. The raw matte finish gives an organic feeling to delight paper fetishists. Written in English.
A5 ♦ 64 pages ♦ recycled heavy paper ♦ Limited to 380 copies ♦ 23 participants
Issue Zero released in the begining of 2022 (edited in 2021)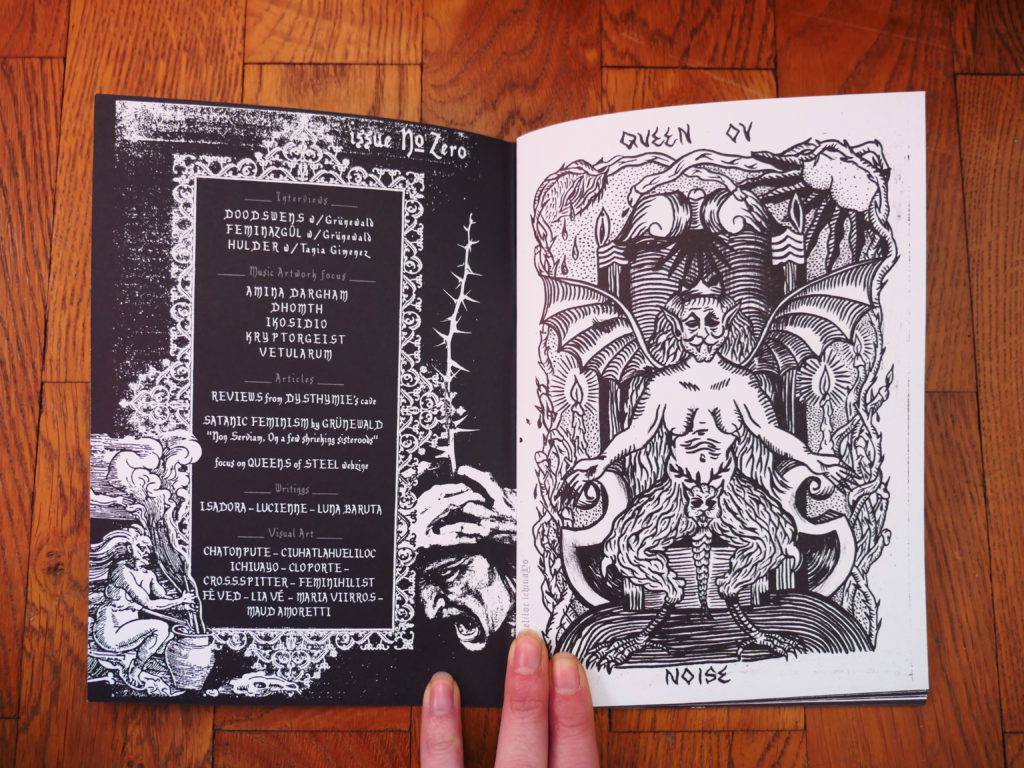 An independent fanzine to share our passion for black metal, desecrating conservative ideals of purity in this genre, profaning its codes to reclaim its subversive spirit.
 » No fun, No profit, No ads, No NSBM « 
Our pages are mainly devoted to women and queer folks contributions because, in some metal subgenres, most of the medias are run by men who promote their peers, gatekeeping. However, the taste for auditive violence, the unbridled expression of destructive will, dreadful wrath and rough negative art are not the prerogative of some chauvinists.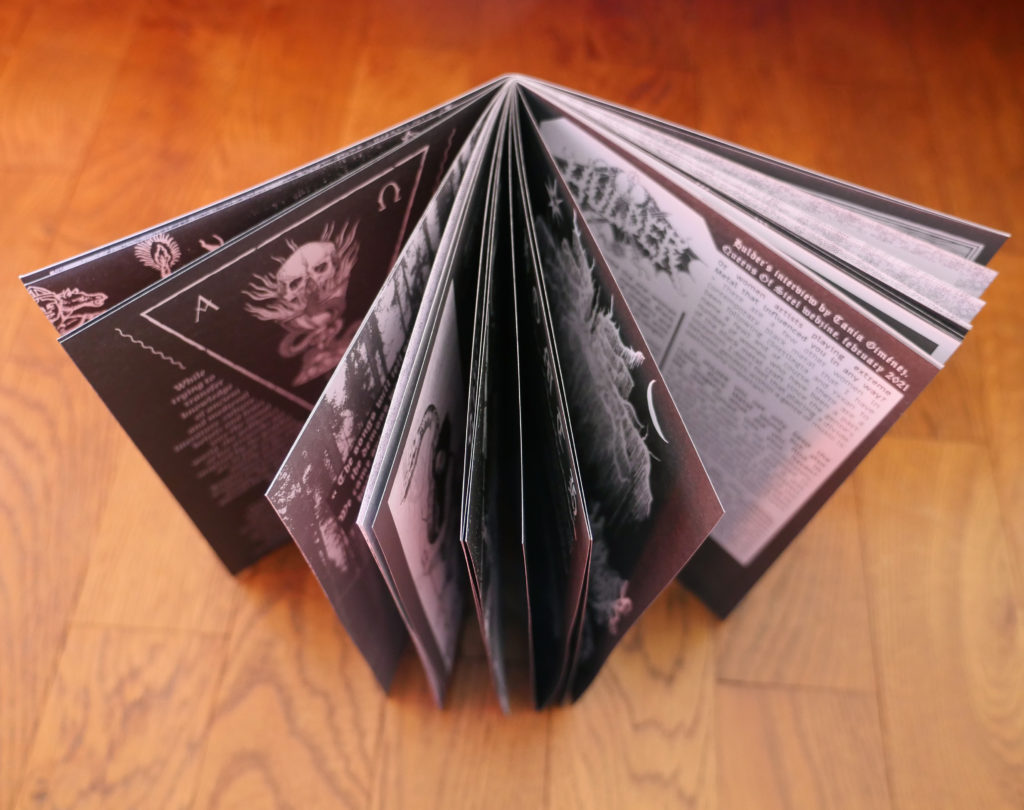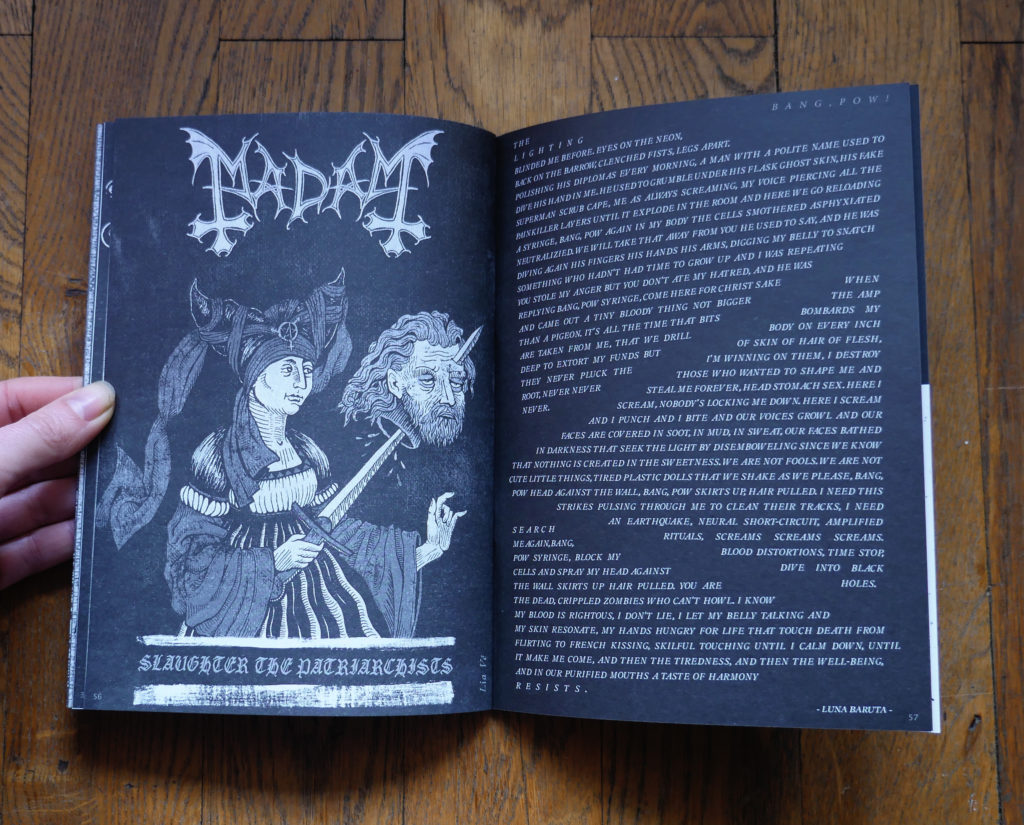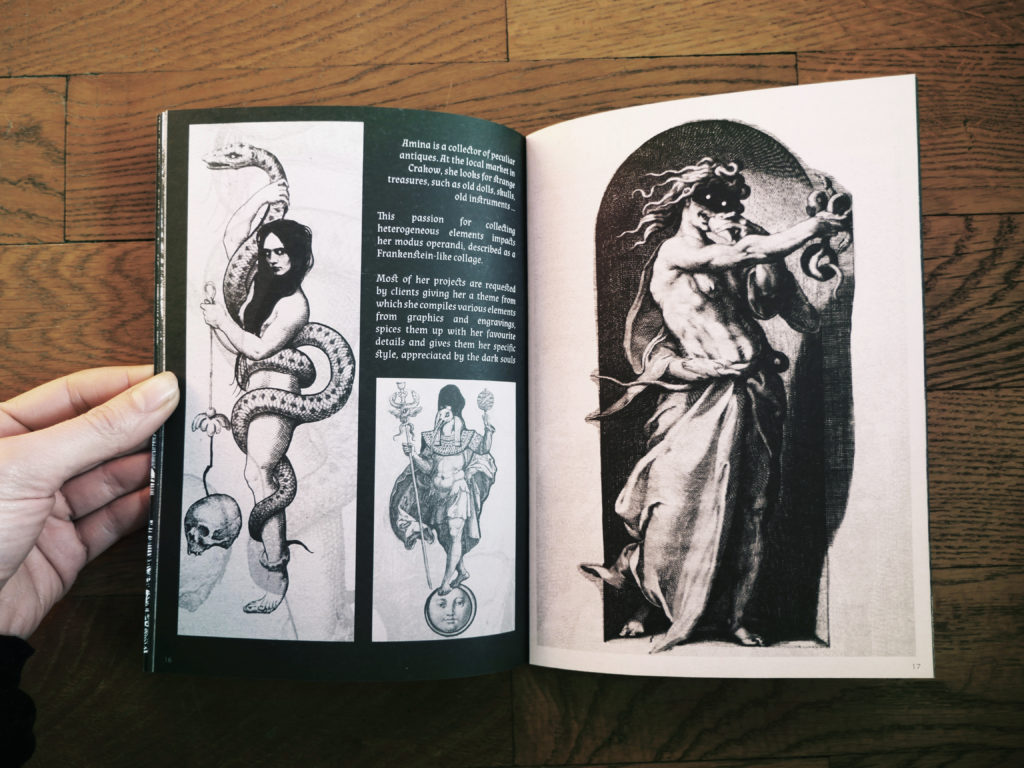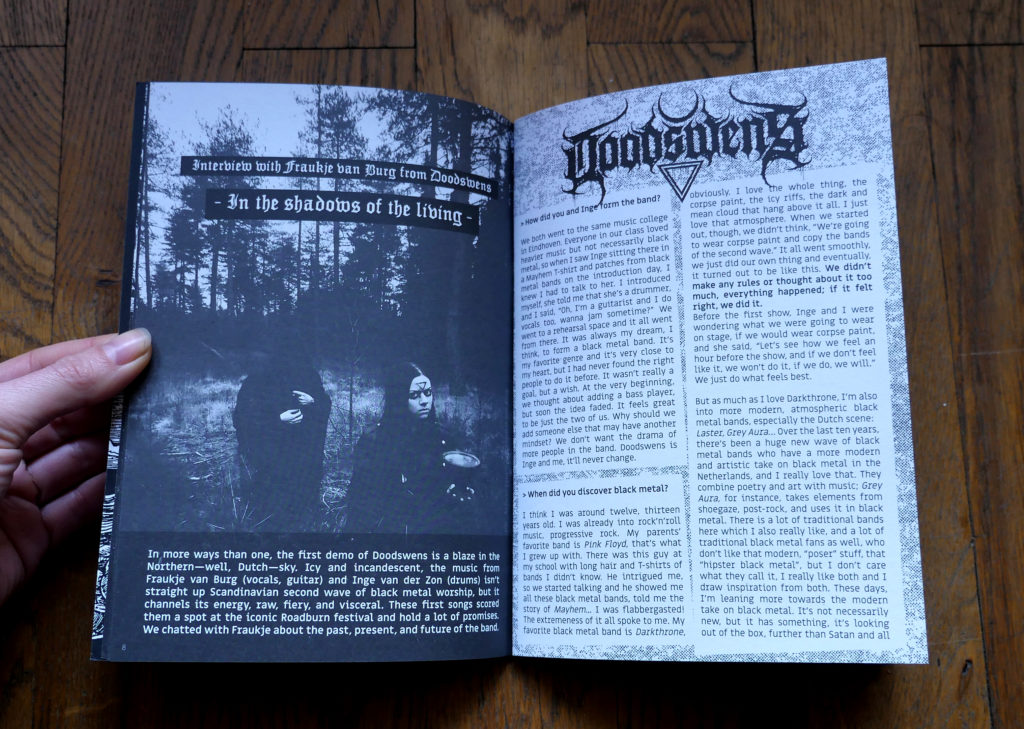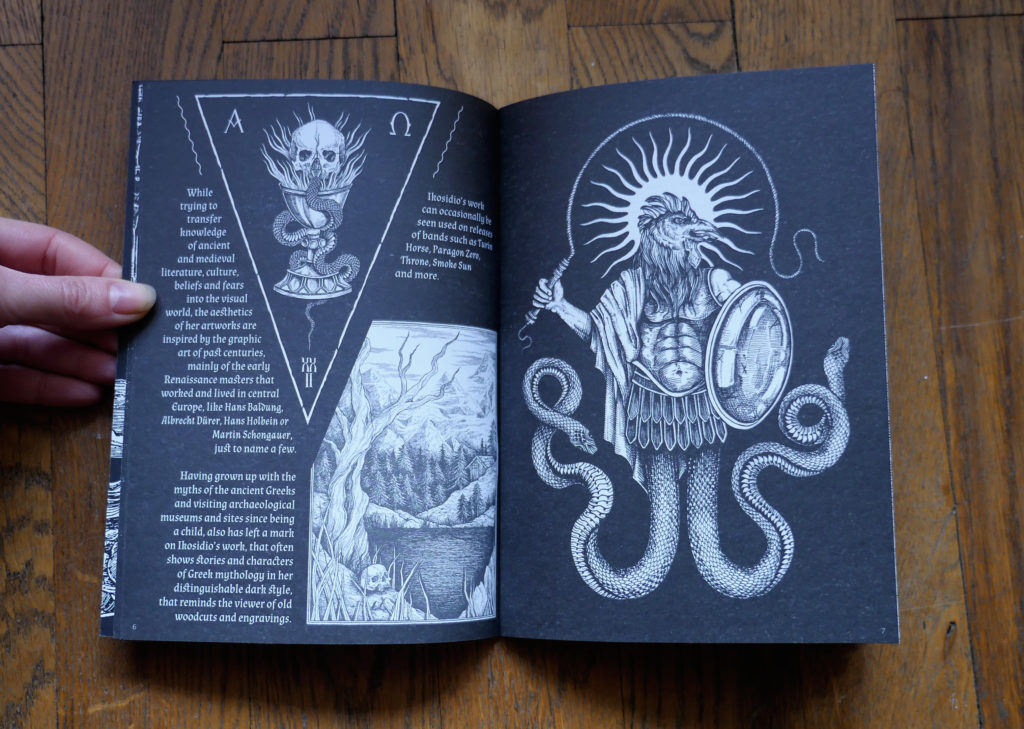 FEATURING
Interviews : Feminazgûl (US) ♦ Hulder (US/BEL) ♦ Doodswens (NL)
Reviews : Velchans by Uhl (FR) ♦ Ancient womb of Mercury by Fayenne (SWE) ♦ Curse you all men! by Matriarkathum (SWE) …
Article : Non Serviam : On a few shrieking Sisterhood. About Per Faxneld's study « Satanic Feminism« .
Artworks : Amina Dargham ♦ Chatonpute ♦ Cloporte ♦ Crossspitter ♦ Dhomth ♦ Fève D ♦ Feminihilist ♦ Ikosidio ♦ Kryptorgeist ♦ Lia Vesperale ♦ Maria Viirros ♦ Maud Amoretti ♦ Vetularum
Writings : Grünewald ♦ Isadora ♦ Lucienne ♦ Luna Baruta
Amina Dargham
Chatonpute
Ciuhatlahueliloc ichiuaYo
Cloporte
Crossspitter
Dhomth
Doodswens
Dysthymie
Fève D
Feminazgûl
Feminihilist
Grünewald
Hulder
Ikosidio
Isadora
[ Edition & layout by Vesperale ]

Kryptorgeist
Lia Vesperale
Lucienne
Luna Baruta
Maria Viirros
Maud Amoretti
Tania Giménez
Vetularum
Read our INTERVIEW if you want to learn more about why and how we make this zine
>>> Instagram <<<
Issue #0 Summary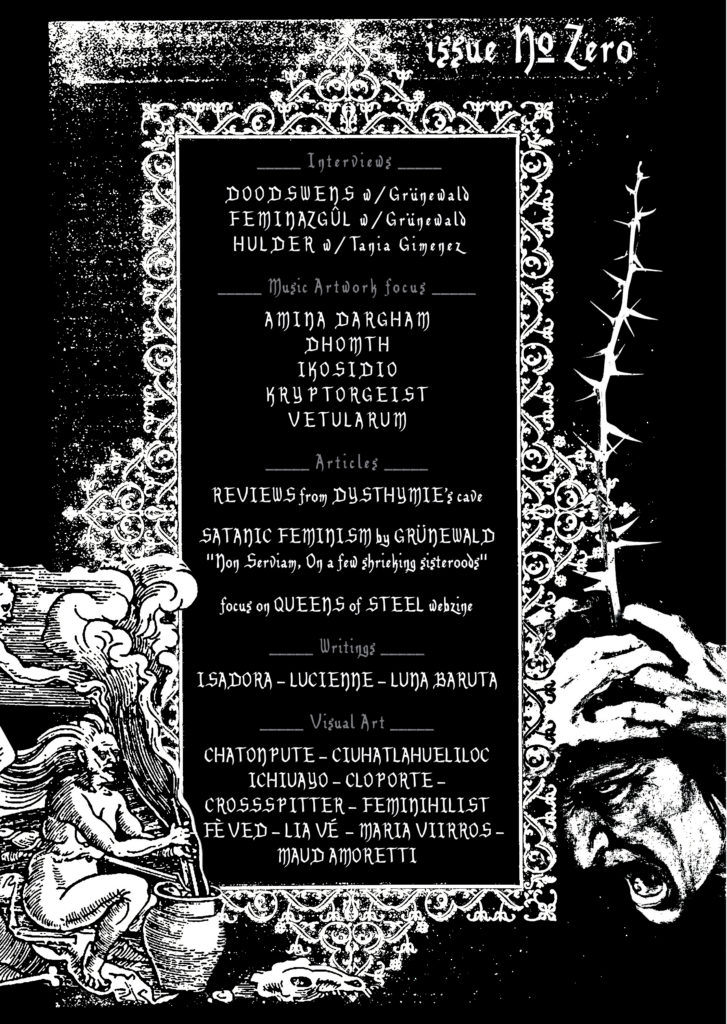 SOLIDARITY
Our first issue is raising money for abortion access in Europe.
This is a non-profit zine : we all work unremunerated, even the editor/graphist/publisher.
A part of the sales of the first issue goes to printing costs and distribution fees, the other will be donated to Abortion Without Borders, an initiative of six NGO from european countries, working together to help people access abortions at home with pills or abroad in clinics, while Polish state denies this vital right.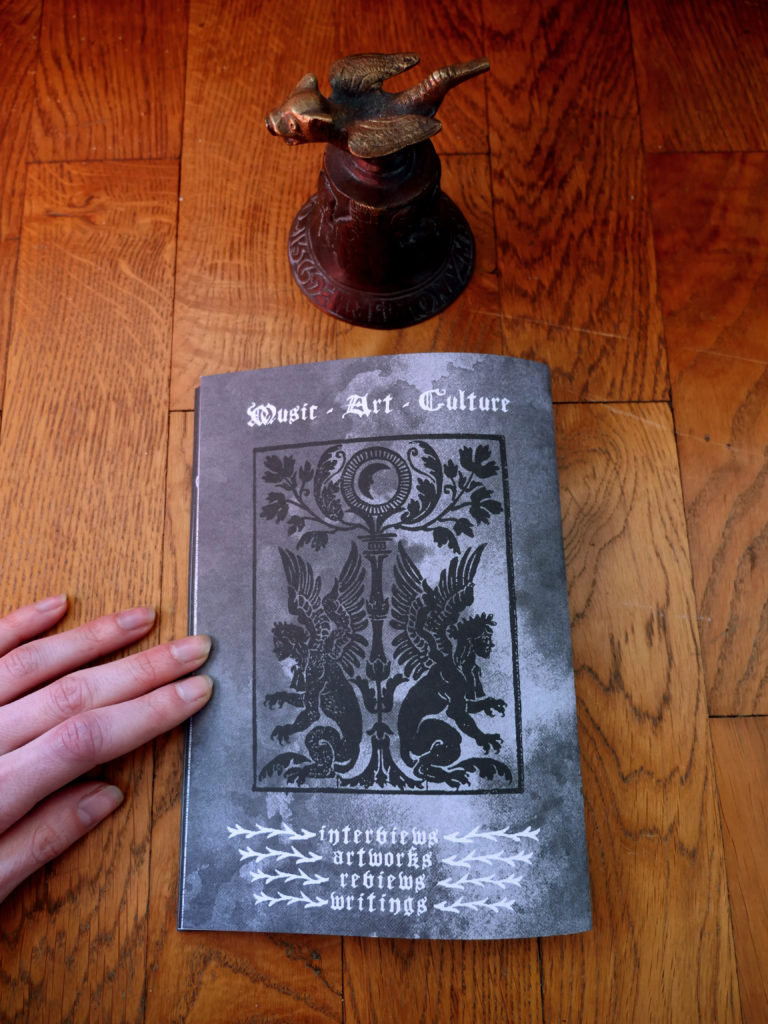 No Fascism / No racism / No homophobia / No transphobia / No sexism
Despite all of our attention, if you find content not in line with that, please inform us.